Mount Douglas students love Science and take excellent advantage of the many opportunities for high school students which are here: Mount Doug Science Opportunities 2019
In 2018 Danielle Tsao was selected to spend her summer doing research at the BC Cancer Agency as an Xavier Pelletier High School Intern.  Over the years a number of Mount Doug's brightest students have been chosen to spend the summer at UBC as a TRIUMF intern in physics. This program has been renamed as The Young Engineers and Scientists (YES!) Fellowship and includes opportunities in life sciences as well as at TRIUMF.
Please note that the two internships are school nominated with complete applications as described in the attached document due to Ms. Kucher in room 219 on Wednesday, January 30, 2019 for the Cancer Research  and on Friday, March 1, 2019  for the Young Engineers and Scientists (YES!) Fellowship .
Danielle Tsao with researcher Katy Milne of the BC Cancer Agency's Trev and Joyce Deeley Research Center
Many Mount Douglas Students participated in Shad's experiential-learning program over the summer of 2018 as well. Although the deadline for this coming summer has passed, students can be alerted for attending in 2020.
Each year Mount Douglas students arrive with a history of success in Science Fairs. We don't always hear about these stories but this year one of our grade 9 students, Wishva Kosgoda had her experimental research on hummingbirds published in Wildlife Afield: A Journal of British Columbia Natural History. Her project had its origin in November 2014 and was presented to the Vancouver Island Regional Science Fair in April 2016. If you have questions about the Science Fair this coming April, please speak with Mr. Newell in room 226 or check out the website in the attached document.
Congratulations to the 14 students who represented Mount Douglas at this year's Kwantlen Science Challenge in Richmond BC. The students worked in collaborative teams on engineering design projects, one hour lab processes and analyses and science Jeopardy. The Senior team achieved  7th place provincially with some excellent team work. Their hovercraft design was second in the Engineering design Challenge.
The junior grade 10 team honed their group skills although the Jeopardy challenge took them out of the top 5 standing they were aiming for. However, their boat design won the Junior Design Challenge. Guess which one of the two shown below was the winning design?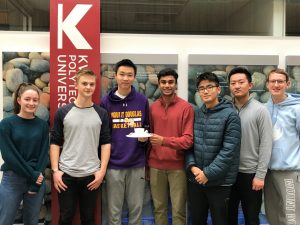 Kwantlen Senior team 2018
Kwantlen Junior Team 2018 with their Design Challenge winning sailboat.