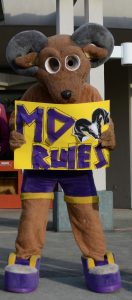 2020-2021 Principal's Message
While the 2020-2021 school year will be different than any past years, it will be great to have the students back in the building for regular in class instruction.  The global pandemic that changes the world at the start of 2020 had us looking for new and creative ways to organize so that we could safely open the doors to bring students back.  The most notable is the move from a semester system to a modified quarter system with students attending 75% of the days.
School sports and activities will also look differently this year but again, with some creativity we can work together to create opportunities for safe ways to practice and meet.  Leadership has a difficult task set before them to create school wide activities to build community while staying physically separated but I know that they will rise to this challenge.
Grade 12s, your graduation year will be different as well from what you had envisioned for your final year.  While the large group gathering will not be able to happen until there is a vaccine we will still find ways to celebrate your great accomplishments.  Sometimes the smaller and more intimate celebrations are more meaningful.
Mount Douglas Secondary is a great school and I am so proud to be part of this community as we learn and grow together.
Donna Thompson – Principal