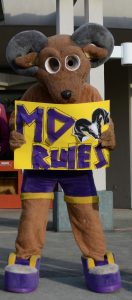 I am reminded each day of how proud I am to be the Principal of Mount Douglas Secondary School.  As I walk through the front doors into the foyer, I'm greeted with energy and warmth. The school is steeped in history and tradition, and it continues to hold a strong reputation for excellence and innovation in academics, arts, applied skills, athletics and leadership, within and beyond the walls.
Our goal, as staff members at Mount Doug, is not just to provide our students with an education, but is to help them find their passions, reach their goals and help them be "good citizens".  We work together to create a warm, welcoming learning environment that is inclusive to a multi-cultural population of diverse learners.  We endeavor to make our students' experiences rich, varied, challenging and rewarding. We also hope to help them create memories to last a lifetime.
It is through our students' hard work and the dedication of an outstanding staff that Mount Douglas has been recognized provincially, nationally and internationally.  Mount Douglas offers courses across a broad spectrum of interest areas as well as advanced classes for students wishing to enrich their academic programs.  We also host one of two of the district's Challenge Programs for gifted, creative and talented students as well as an Aviation Program.
We are very proud of our school and look forward to sharing with you the ways in which we can support your kiddos.  Thanks again for visiting this website.  If you wish to join us for the 2019-2020 school year, in January and/or February, please connect to the Greater Victoria School District #61 Website to get more information about "Cross Boundary Transfers" and/ or joining our school district. If you need more information, please do not hesitate to contact us.
Ms. T. Sherstobitoff, Principal