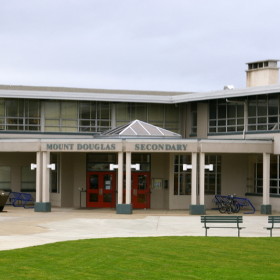 For students within School District 61 who are currently in another Victoria school catchment 'family', see the section below about the 'School Families & Student Transfer Process'.
We welcome new families to our Mount Doug Community.  If you have questions or would like more information about the school feel free to contact us at 250 477 6977 or mtdouginfo@sd61.bc.ca.  Mr. Pitre (ppitre@sd61.bc.ca) is our Vice Principal who looks after new registrants to our school.  Copies of the application forms are following or paper copies are available for pick up at our Mount Doug school office.
Information about the wide variety of courses offered at Mount Doug along with course forms can be found on our Course Offerings Page.
To apply to attend Mount Doug, please submit:
PLUS if new to Greater Victoria School District #61, please submit:
Birth certificate copy – if you bring original to school we can make copy (if new to Greater Victoria School District #61)
Formal documents indicating proof of address – see this link for details:  District Registration Guide

 

(if new to Greater Victoria School District #61)
Academic record copy (most recent report card) (if new to Greater Victoria School District #61)
Landed immigrants also need to include:
Original landed immigrant or Canadian Citizenship status papers
Proof that parents are "ordinarily resident" in BC within the catchment
Please submit the documents to the school using the contact information following then feel free to phone the school to arrange a meeting with Mr. Pitre.   At that time, the documents will be checked for completion, and any further questions will be addressed. You will be contacted by phone or email with confirmation.
School Families & Student Transfer Process for the 2020-2021 School Year (within Greater Victoria School District #61)
To determine the catchment area for family of schools use the School Locator at http://schoollocator.baragar.com/bc61/search.cfm. There is a yearly Student Transfer process for students living within School District 61 who wish to go to a school outside of their catchment area family of schools. The K-12 Student Transfer Process takes place from February 10th – 18th, 2020. After this date, if you wish to transfer within School District #61, please contact an administrator at your pathway, or present school and the school you hope to attend. Other students from schools outside School District 61 area may apply directly to their school of choice.
After the The K-12 Student Transfer Process students wishing to transfer to another school within School District 61 are to contact the Principal or Vice Principal at the school in their "school family" and make the request to transfer.  Arrangements will then be made by the school administrators.
Students from outside the Greater Victoria School District can contact the school directly for registration information.
Sports Eligibility
All competitors must be under nineteen (19) years of age on December 31st of the current school year. (Note: If the competitor has his/her 19th birthday on or after January 1st, he/she is eligible. If his/her birthday falls on or before December 31st, he/she is not eligible.)
All competitors must NOT have completed graduation requirements in the preceding school year, nor have received a senior secondary Certificate of Standing for the completion of graduation requirements during the current school year.
Five Years' Eligibility: Students have five (5) consecutive years of athletic program eligibility, starting on the entry date into grade 8. A year is considered to be the 12-month period between September of one school year and September of the next school year.
All competitors must be enrolled in a minimum 75% course load for any semester or school year (a minimum of 3 courses per semester during the sports season of play).
STUDENT TRANSFER AND ELIGIBILITY TO PLAY SPORTS
New students to Mount Doug who were attending a middle school last year, even if this middle school was outside of the Mount Doug catchment area, are automatically eligible for all inter-school sports in grade 9. Contact Mr. Dave Ball to determine if your child meets the requirements. (dball@sd61.bc.ca)
If transfers are made after the start of grade 10, students may face one year of ineligibility in sports they competed in at their school the previous year.
Please check with Mount Doug Athletic Director Mr. Ball (dball@sd61.bc.ca) and check the B.C. School Sports website for additional information.
Honours Program
Honours courses are available in Math.  For grades 10 through 12 teachers will be recommending students for placement in these honours courses.  No student application is necessary.
For incoming grade 9's there are scheduled placement tests for Math 9 Honours.  Additional information are following.
Mathematics 9 Honours Application Form