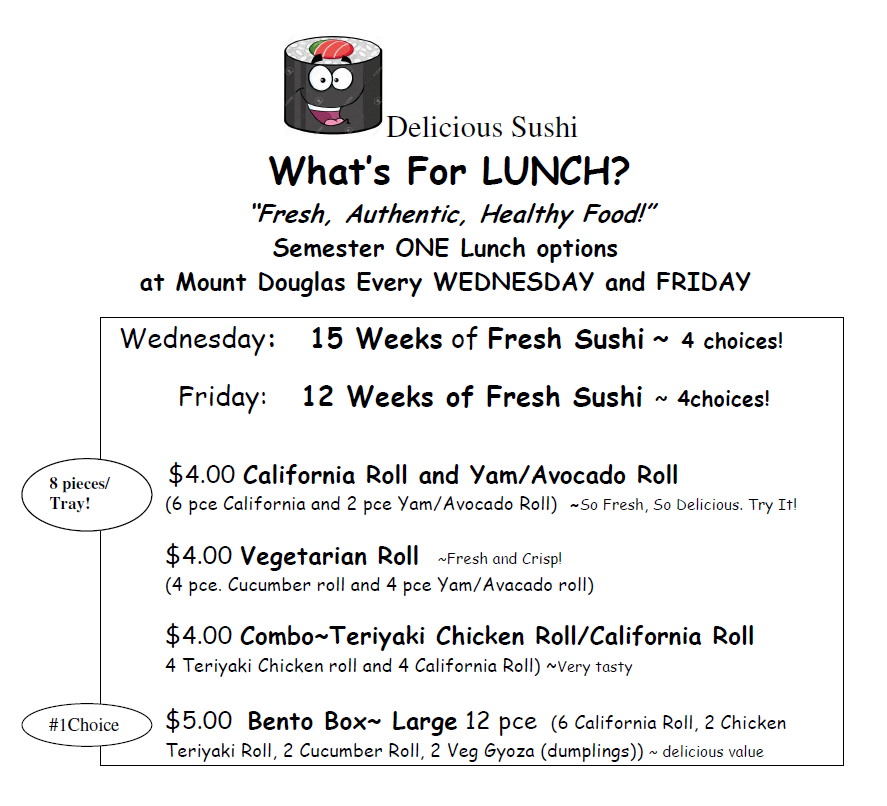 Pre-Order Online/ Photos Available:
Click ONLINE FEE PAYMENTS
at https://mountdoug.sd61.bc.ca
to order Fresh and Tasty Lunch today.
Online payment closes midnight on
Thursday, Sept 20th
Pre-order lunches begin on Wed, Sept 26
Convenient Payment Plan for Parents/Students:
No Need To Make Lunch OR Carry CASH!
Guarantee Your Lunch ~ It's EASY!
See All SUSHI option PHOTOS on the ONLINE payment page.
Sushi Pre-Orders Sept 26-Jan 18. No sushi Wed Dec 26, Jan 2 and
No Sushi Friday Oct 16, Nov 23, Dec 21, Dec 28, Jan 4
Wednesday/Friday Healthy Food Questions?
Contact Mrs. Parkinson at dparkinson@sd61.bc.ca
Payment Questions?
Contact Mrs. Tess Brown at tebrown@sd61.bc.ca.
Please email to arrange cash or cheque payment if online payment option is not available to
you or bring payment directly to the Mount Douglas accounts office.