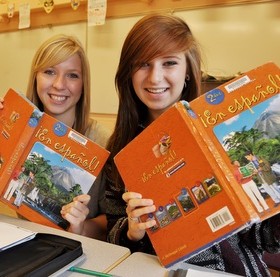 When the Exam Period approaches, we recommend that students refer to the following information to assist with their review and exam preparation.
1. Review Materials – Ministry of Education

Below are links to resources for students to explore while preparing for the Provincial exams.
2. Review your course work completed to date
Make a set of condensed notes from which to study
Create a vocab list that you can use to drill yourself (and others)
Do chapter reviews in your text
Redo questions from previous class or homework assignments
Work on sample Provincial Exam questions (on topics you have covered)
3. Work with a partner or in a study group
Develop questions and test each other / Make a game of it
Do a 'Jeopardy Game' between two study groups
Teach or tutor each other
4. Work Ahead
Check the Learning Outcomes (from the Ministry material) and connect those with material in your text to decide what to learn and study
Read your text; make notes; study notes
If you know what the reading material is, read ahead
If you are in the middle of a chapter in your text, read ahead
Additional Study Tips
Tutoring is a great way to get help. Mount Douglas' Peer tutors are available Monday-Thursday 3:00-4:00 p.m. in the school library. Individual session may be requested at the Peer Tutoring site. UVic Career Services maintains a list of current UVic students who are willing to tutor a variety of subjects. This list is available online at Learning Motion. For a high school student/parent to gain access, they need to create a Casual Work Employer Profile first, and then they will have access from that point.
Try to attend as many academic support activities and workshops as possible. By attending these activities you can usually pick up extra details that you might have missed during the regular class. The teacher might also explain things in a different manner so you understand better.
You need to study. This might seem obvious, but a lot of students do not put in any extra study time on their own. These students expect to learn and comprehend all of the material during class time. Everyone must study a little on their own to ensure course concepts are worked into long term memory.
When you learn something new, try to go over the points the same day in order to cement it into your brain. If you wait a few days and then make efforts to review the material, it will seem much less familiar.
Study space is another key ingredient to good studying. Your regular study space should be as quiet as possible and as large enough to have easy access to everything you need for studying (text and reference books, paper, pencils, rulers, etc.). Libraries and private rooms are ideal. Make sure to get rid of all distractions and garbage before you begin to study.
Study groups can facilitate content retention but, in general, studying alone is often more effective.
The brain will not absorb new data if it is stressed; relax and take an hour, an afternoon or day off. When taking a break from studying, really enjoy yourself and do not feel bad about not studying. Planning down time is a key ingredient in a successful academic career
Prepare to study. Organize all course material prior to each study session. This will help maximize efficiency and time spent on review.
When you study, try first to grasp the big picture or the overall concepts in each unit. Then fill in the details. You will have a greater chance of success.
Generally, if you schedule certain times of the day to study, you will get into a routine and accomplish more. If you just "fit it in" during your day, chances are that there will never be any time.
One of the main reasons people do not reach their goals is because they set them too high. If you set goals that are manageable you get in the habit of accomplishing them and gradually you can set larger, more complex goals.